Whole School
Our Creative Curriculum
The Windmills Junior School provides a broad, balanced, and creative curriculum underpinned by a variety of inspiring and exciting learning experiences that ensure children develop a passion and enthusiasm for learning. We priorities the key skills in reading, writing and maths as these underpin all other subjects. We not only teach the children the subjects within the National Curriculum, but also the skills needed to learn well and approach learning and challenges with determination and resilience. We ensure that the children have the opportunity to learn not only what they need to know now, but also to develop the skills and attitudes necessary for the lives they will lead in the future.
Each term is carefully planned to ensure that there is continuity and progression for all our children, our thematic approach ensures that learning is set in a meaningful context taking into account the requirements of the new National Curriculum (September 2014) and other national and local initiatives. Our creative and innovative approach ensures pupils receive a rich and varied experience that develops key skills, deepens their knowledge, broadens their interests, and impacts positively on their engagement.
Through our effective and regular monitoring of pupil performance, we identify successes to build on and areas for improvement ensuring we deliver the best curriculum for all. This is continually reviewed and adapted to keep learning fresh and engaging.
Our curriculum is designed to develop our children as self-assured and confident individuals who are fully prepared for their transition into secondary school and beyond, as well as fully equipped with the literacy and numeracy skills needed for a successful future.
In short, the objectives of our curriculum are:
To motivate and inspire children to become life-long learners
To make sure all children make rapid progress in their learning
To develop our children as independent learners
To encourage our children to be imaginative and creative
To develop our children as conscientious global citizens, ensuring that they understand the values of democracy, the rule of law, individual liberty, mutual respect and tolerance for those with different faiths and beliefs.
This is an overview of the themes that we currently teach. To see more detail on each term please visit the year group page. For more detail still look at the National Curriculum documents below.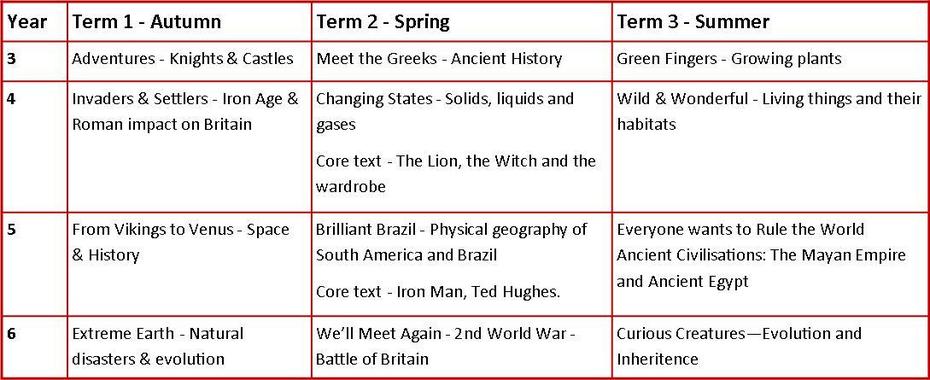 DfEE Master Final National Curriculum 220714
WSCC Agreed Syllabus for RE 2015
DfEE Primary National Curriculum – English
DfEE Primary National Curriculum – Mathematics
DfEE Primary National Curriculum – Art and design
DfEE Primary National Curriculum – Computing
DfEE Primary National Curriculum – Design and technology
DfEE Primary National Curriculum – Geography
DfEE Primary National Curriculum – History
DfEE Primary National Curriculum – Languages
DfEE Primary National Curriculum – Music
DfEE Primary National Curriculum – Science
DfEE Sex and Relationship Education Guidance
| | |
| --- | --- |
| | SCHOOL INFORMATION |