Sports Day details
Sports Day details
20 June 2018 (by admin)
Confirming details of our forthcoming Sports Day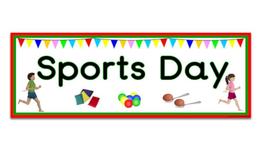 Dear Parents and Carers,

SPORTS DAY - Friday 29th June 2018

Sports Day is fast approaching and we are keeping our fingers crossed that the weather is kind!

Everything gets underway at 1pm so we will open the gates at 12:40 pm to allow parents and relatives to take their seats in good time. There will be chairs on the field for parents to sit on but please be aware that there is little shade on the building side of the track. All the children will sit in their house teams under the trees. It would be helpful if the children could wear plain T-shirts in the colour of their house, rather than their school PE tops, but we do have coloured sports bibs if that is not possible. There is no expectation that you should buy new T-Shirts for the occasion but the FOWs have sent out a flyer offering this as an option.

We always aim to finish by 3:15pm but there is chance we may overrun by 5 – 10 minutes. At the end of the event, all children will be taken briefly back to their classes to collect their belongings and all parents are asked to make their way to the front of the school, to the playgrounds, for the children to be dismissed in the usual fashion by their teachers. If you are not attending the afternoon please be patient if we are not out on the playground at the normal time.

All children will need a water bottle and their PE kit on the day and a hat and suntan lotion if the weather remains warm and sunny.

Refreshments for spectators will be available throughout the afternoon, courtesy of the Friends of Windmills School; FoWS will be grateful for donations of cakes on the day.

Should the weather mean that Sports Day cannot go ahead next Friday, 29th June, we have booked Friday, 6th July as a reserve date.

We look forward to seeing you.

Yours sincerely,
Mr. S. Kingcome
Deputy Headteacher