The Windmills retain District Sports Trophy
The Windmills retain District Sports Trophy
11 July 2017 (by admin)
Eruption of joy during result announcement on Friday.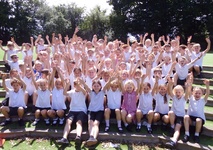 69 students, 7 staff and 2 parents made their way by train to Burgess Hill Academy on Tuesday 27th to attend the District Sports Athletics Competition. It was a tense waiting game but notification was received the event was to proceed regardless of the prediction of rain later in the day. Despite it's eventual arrival, enthusiasm and endurance shone through. Despite the cancellation of the final relay events spirits were still high. Announcement of the results were given to all during Friday's assembly.
Year 6 - 3rd
Year 5 - 1st
Year 4 - 1st
Year 3 - 3rd
Winners - Overall Boys and Girls
OVERALL WINNERS - THE WINDMILLS JUNIOR SCHOOL
FANTASTIC AND WELL DONE EVERYONE!